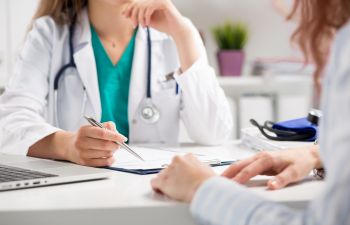 Athletes, professional and amateur, are often driven to be the best in their field. After years of performance, body parts can become worn out and health problems can become an issue. Such is the case with those who suffer from osteoarthritis. There are many conservative treatments available to help relieve the discomfort this condition can cause.
Natural Remedies
You do not necessarily need to reach for the bottle of pain relievers when confronting osteoarthritis pain. This is especially true when you first notice signs. Implementing some natural remedies may ease the pain and keep you in motion.
Staying active may seem counter intuitive when you are hurting, and yet studies on the subject show that your quality of life can improve if you remain physically active. Not only does activity boost the endorphins in your brain, it also helps improve energy. Proper exercise will help keep your bones and muscles strengthened and joints flexible.
Another key factor in minimizing the toll arthritis takes on the body is to maintain a healthy weight. Keeping excess weight off reduces the stress on your joints. Eating a well-balanced diet with emphasis on anti-inflammatory foods will help you maintain a healthy weight, and ease symptoms at the same time.
Getting the proper amount of restful sleep is also important. If you suspect you have a sleep problem or your bed partner complains about your snoring or breathing unnaturally while sleeping, get it checked out. Restful sleep helps you cope with the stress of osteoarthritis.
Additional Treatments
Physical therapy is helpful for many people suffering from osteoarthritis. Exercises help improve range of motion, flexibility and can help build muscle.
Sometimes assistive devices or braces may be needed to help with physical support. These can help reduce the stress on joints and relieve symptoms. Your physician will make recommendations regarding the most effective devices for you.
Corticosteroid injections are effective for some patients. Relief from symptoms can start in just a few hours from the time of injection, and can last anywhere from weeks to several months.
Another conservative treatment that works with some patients is viscosupplementation. This involves injecting hyaluronic acid into the arthritic joint. The body naturally produces hyaluronic acid as a lubricant and shock absorber for the joints. It is found in the synovial fluid, which bathes the joints.
At Ortho Sport & Spine Physicians, we work with you to find the best treatment for your osteoarthritis to minimize your pain and discomfort. We offer various treatments, non-surgical and surgical. Contact us today to schedule an appointment and let us help you improve the quality of your life.
Posted on behalf of Ortho Sport & Spine Physicians