Sciatica Treatment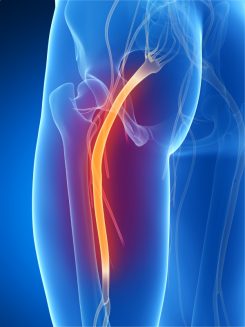 Ortho Sport & Spine Physicians is your sciatica (lumbar radiculopathy) treatment expert. We are an orthopedic spine and sports medicine practice located nationwide. Our practice features a talented team of interventional spine physicians, interventional sports physicians and orthopedic specialists who are committed to using the most advanced and minimally invasive treatments to help patients with sciatica return to full function and an active, healthy lifestyle. If you are looking for a long-term solution to your leg pain and other symptoms, you can count on the caring team from Ortho Sport & Spine Physicians.
Relief From Lumbar Radiculopathy
Finding relief from lumbar radiculopathy can be a challenge for many people. By definition, lumbar radiculopathy, also known as sciatica, refers to back, hip and outer leg pain caused by the compression of a spinal nerve root in the lower back. In many cases, this compression is due to a degeneration of an intervertebral disc. Treatments for lumbar radiculopathy are aimed at relieving the pressure on the nerve.
If you have been diagnosed with sciatica or lumbar radiculopathy, we will work collaboratively with other physicians, chiropractors or other ancillary services to find a long-term solution to your pain and other symptoms. In many cases, this chronic and painful condition can be effectively managed using conservative, non-surgical treatments including hot/cold therapy, massage, physical therapy, rest, strengthening exercises, anti-inflammatory medications, steroid/anesthetic injections and more.
In severe cases when conservative, non-surgical treatments have failed, surgery may be considered. In this case, our physicians would employ the most minimally invasive surgical techniques possible to help you get relief. We are proud to be one of the leading providers of minimally invasive, endoscopic spine surgery. Using this advanced surgical technique, we are able to offer effective surgical solutions with fewer complications and a shorter recovery time.
Effective Treatment For Sciatica
If you are searching for an effective treatment for sciatica, please contact the Sciatica Treatment Doctors at Ortho Sport & Spine Physicians today and schedule a consultation. Our practice is currently accepting new patients and we accept most forms of health insurance as well as several different forms of payment. We look forward to helping you stay active and live your best life!