Triangular Fibrocartilage Complex (TFCC) tears can significantly compromise wrist mobility for patients. Do not ignore the signs of a TFCC tear as ignoring the injury can lead to worse damage to your wrist and a longer recovery time. A physician can diagnose a TFCC tear through a process known as the fovea test. This involves a series of diagnostic steps to determine the source of your pain.
During the first step of diagnosis, your physician will apply pressure to either side of the affected wrist. Although you may not have any pain in the other wrist, it is important to check the pressure in both wrists for comparison. In addition to this test, wrist movement is examined. TFCC tears are often coupled with broken bones in the hand or forearm. An x-ray may be necessary to determine any further injuries that require treatment.
Ortho Sport & Spine Physicians can provide specialist treatment for TFCC tears. We always endeavor to provide minimally invasive surgical options. Wrist arthroscopy is keyhole surgery involving a number of small incisions that allow your surgeon to repair the damage. Before we consider an arthroscopy, non-surgical options are evaluated. Resting the wrist can allow the tear to repair naturally in some cases. However, athletes may opt to have surgery in order to ensure that the tear is repaired effectively.
The recovery time from a wrist arthroscopy will take approximately 12 weeks. Initially, the wrist is supported by a cast to prevent movement and further damage. The second phase of treatment focuses on rehabilitation to regain strength and stability. If you play sports that involve the use of the hands, it is important to complete treatment before returning to activity. Your doctor at Ortho Sport & Spine Physicians will closely monitor wrist movement and look for signs of persistent pain before giving you the green light to return to normal activities.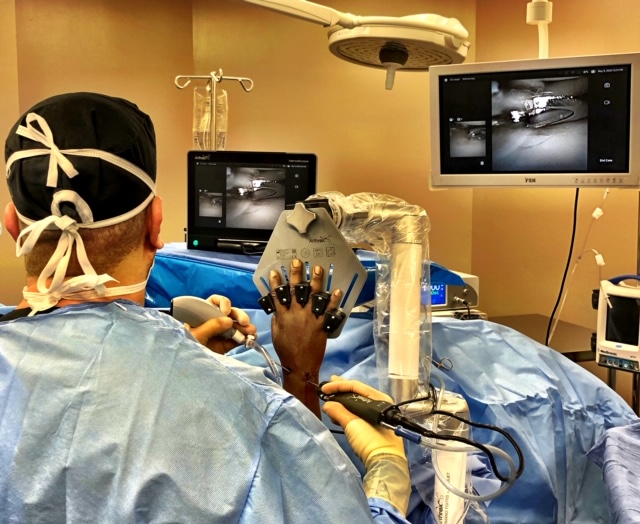 Triangular Fibrocartilage Complex (TFCC) Injury Specialist
Most patients will benefit from conservative treatment for a Triangular Fibrocartilage Complex injury. We want to reduce recovery time as much as possible. In order to do this, your physician will provide a full diagnosis. Identifying the scope of the injury allows Ortho Sport & Spine Physicians to recommend the most appropriate path toward full recovery. Our team specializes in sports injuries and can get you back on the field with limited disruption to your favorite activities.
Minimally invasive surgery is the next option if conservative treatment is ineffective. Ortho Sport & Spine Physicians often treat patients who have already rested an injured wrist. If your pain and immobility are persistent, a TFCC tear may require specialist treatment. This type of injury can heal effectively when you have support from a team of dedicated and experienced professionals.
We understand that some patients are especially reliant on full and unimpeded wrist movement. Our aim is to achieve the most positive outcomes, regardless of whether a conservative or surgical approach to treatment is taken. Your health and well-being are central to everything that we do. You can rely on the specialists at Ortho Sport & Spine Physicians to put you on the path to full recovery.
TFCC Tear Consultation
If you suspect that you have suffered a TFCC tear, book a consultation with Ortho Sport & Spine Physicians. We provide a comprehensive diagnosis that will determine the extent of the damage. Treatment options will depend on the results of your consultation with one of our experienced physicians. Full recovery depends on receiving the right treatment for your specific needs.
If you are suffering from persistent wrist pain and limited mobility, contact Ortho Sport & Spine Physicians today. Our team will help you return to normal activities in the shortest time possible.