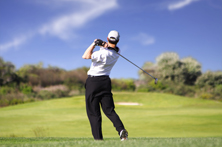 Ortho Sport & Spine Physicians is where golfers go to receive expert treatment for their golf injuries. We are an orthopedic, spine and sports medicine practice that specializes in helping athletes recover from their injuries and athletic conditions and return to a healthy and active lifestyle. Our practice features a team of double board-certified interventional sports physicians, interventional spine physicians and orthopedic specialists who are committed to helping golfers of all levels recover from their injuries and prevent injuries from reoccurring in the future. We achieve this goal by utilizing the most advanced and minimally invasive treatments possible. Whether you are a professional golfer or just enjoy playing, we can provide the expert treatment you need to enable you to get back out on the golf course.
Golf Related Back, Neck and Arm Pain Treatments
For expert, proven and effective golf-related back, neck and arm pain treatments, you can trust the caring team from Ortho Sport & Spine Physicians. Our interventional sports and interventional spine physicians are highly qualified to treat a variety of different types of golf-related injuries including golfer's elbow, herniated discs, pinched nerves and more. Our goal is to get you back to full function and your peak performance level.
Before implementing any type of treatment plan, we will take the time to first accurately pinpoint the source of your pain and other symptoms. During your initial consultation, one of our experienced physicians will take the time to conduct a complete family and medical history, discuss your symptoms, perform a thorough physical examination and administer any diagnostic tests that are needed. We limit the number of patients we see every day so we can give each and every one of our valued clients the attention and care they deserve. Once a specific diagnosis has been made, our physician can then discuss your treatment options and develop a treatment plan that is tailored to meet your specific needs and goals. At Ortho Sport & Spine Physicians, you will not find a crowded waiting room and long wait times. You will find an experienced team of physicians who are here to serve you with state-of-the-art care.
Relief for Injured Golfers!
Ortho Sport & Spine Physicians specializes in providing relief for injured golfers. Our practice caters to golfers of all levels ranging from enthusiasts and amateurs to professional golfers. If you are a golf professional, we offer special accommodations that will enable you to receive the care you need in the privacy you desire.
If you are suffering from a golf-related injury, please contact our Golf Injuries Treatment Specialists at Ortho Sport & Spine Physicians today and schedule a consultation with one of our orthopedic physicians. Our practice is currently accepting new patients and we work with most major insurance providers and accept several other forms of payment. We look forward to helping you find long-term relief from your pain and other symptoms so you can get back out on the golf course and enjoy your life.