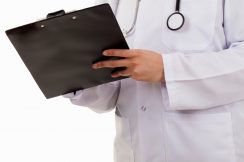 Ortho Sport & Spine Physicians is pleased to offer radiofrequency ablation for the treatment of chronic low back and neck pain. We are an interventional spine and orthopedic practice that specializes in finding solutions to chronic and acute back, neck and spine conditions and injuries. Our double board-certified physicians are committed to using the most advanced interventional spine treatment methods possible to help individuals who suffer from chronic pain find relief from their symptoms, improved function and a better overall quality of life.
Ortho Sport & Spine Physicians is a trusted provider of expert radiofrequency ablation. Radiofrequency ablation is a minimally invasive, interventional treatment that can be used to help patients who suffer from low back pain, neck pain and pain related to degenerated (arthritic) joints. With this procedure, an electrical current produced by a radio wave is used to heat up an affected area of nerve tissue in the spine, thereby decreasing pain signals to the brain from that specific area. Radiofrequency ablation has proven to be a safe and effective way to treat certain types of pain. In some cases, pain relief from radiofrequency ablation can last from six to twelve months. In others, it can last for years. This minimally invasive procedure is well-tolerated and has a very low risk for complications.
In many cases, a medial branch block will be administered prior to administering radiofrequency ablation to confirm the source of the pain. If a medial branch block provides immediate relief in a specified area of the spine, radiofrequency ablation may used to provide longer-term relief.
Am I a Candidate for Radiofrequency Ablation?
If you would like to find out if you are a candidate for radiofrequency ablation, please contact our Radiofrequency Ablation Specialists at Ortho Sport & Spine Physicians today and schedule a consultation with one of our interventional spine physicians. After a thorough evaluation, we will recommend a treatment plan that is tailored to fit your specific needs and treatment goals. We look forward to helping you stay active and live your best life.