Motor Vehicle Accident Rehabilitation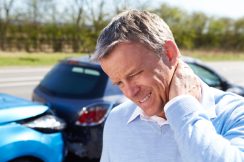 Ortho Sport & Spine Physicians is a leader in motor vehicle accident rehabilitation. We are an orthopedic, spine and sports medicine practice that specializes in helping patients who have been injured in an auto accident and other accident related injuries recover from their injuries and return to full function. Our practice features a team of board-certified interventional spine physicians and orthopedic specialists who are highly qualified to diagnose and treat musculoskeletal and soft tissue injuries. If you have recently been injured in an automobile accident, schedule a consultation today so we can help you find long-term relief from your pain and regain full function and a good quality of life.
Auto Accident Injury Treatment
For expert auto accident injury treatment, you can count on the caring professionals from Ortho Sport & Spine Physicians. We take a different approach to practicing medicine that involves limiting the number of patients that we see everyday. This lower patient-to–provider ratio enables us to give each and every one of our valued patients the time and attention they deserve. Before recommending any type of treatment or rehabilitation plan, we will take the time to discuss your symptoms and treatment goals, conduct a thorough physical examination and perform any diagnostic tests that are needed to accurately pinpoint the source of your pain and other symptoms. Once we have obtained an accurate diagnosis, we will then recommend a customized treatment plan based on your individual needs and goals.
Muscoloskeletal and Soft Tissue Injury Rehab
If you are in need of rehabilitation for a musculoskeletal or soft tissue injury, we can help. If you are currently working with other physicians, a chiropractor or ancillary service such as physical therapy, we will work collaboratively with these other providers to implement a comprehensive treatment plan. This collaborative approach provides for a more consistent standard of care and improved outcomes for our valued clients.
If you have been injured in a car accident, please contact the Motor Vehicle Accident Rehabilitation Specialists at Ortho Sport & Spine Physicians today to schedule a consultation with one of our physicians. We look forward to helping you recover from your injuries so you can stay active and live your best life!