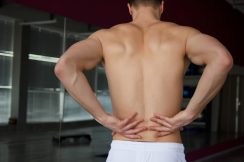 Ortho Sport & Spine Physicians is a trusted source for discogenic pain treatment. We are an orthopedic spine and sports medicine practice with offices located nationwide. Our double board-certified interventional spine physicians and orthopedic physicians specialize in providing effective, minimally invasive treatments for complex back pain and spine conditions, including discogenic pain.
Discogenic pain is a generalized term used to describe back pain originating from a damaged vertebral disc. It is one of the most common causes of acute or chronic back pain and affects an estimated six million people in the United States. For many individuals, discogenic pain can be a debilitating condition. However, using the most advanced and minimally invasive treatments, our physicians are able to help patients with discogenic pain find relief from their pain and other symptoms and return to an active lifestyle.
Symptoms of Discogenic Pain
The symptoms of discogenic pain will vary from individual to individual but may include lower back pain, pain when sitting, bending forward, coughing, sneezing and leg pain. In some cases, discogenic pain can be successfully managed using conservative methods such as strengthening exercises, physical therapy, anti-inflammatory medications, steroid/anesthetic injections, intra-discal injections,  hot/cold therapy and massage. In cases where conservative treatments have failed to provide adequate relief, surgery may be considered. Ortho Sport & Spine Physicians is proud to be a leading provider of minimally invasive, endoscopic spine surgery (also known as "band-aid back surgery"). This advanced surgical technique offers significant patient benefits over traditional back surgery including fewer complications and a shorter recovery time. Using endoscopic surgery, we are able to help many individuals return to work and other activities and achieve an improved overall quality of life.
Causes of Discogenic Pain
The exact cause of discogenic pain is not fully understood at this time, however, it is largely associated with trauma and forces that damage the discs. Avoiding smoking and getting adequate physical exercise can decrease your risk of developing discogenic pain.
If you have chronic or acute back pain and think it may be due to discogenic pain, we can help. Our office is currently accepting new patients and we accept most forms of health insurance as well as several other forms of payment. Please contact the Discogenic Pain Treatment Specialists at Ortho Sport & Spine Physicians today to schedule a consultation with one of our interventional spine physicians. We look forward to helping you stay active and live your best life.