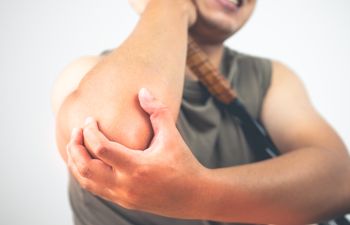 There is nothing like the warmth of summer to bring us back into some of our favorite activities. After being cooped up for the winter, you are probably excited to hit the tennis court. While the extra movement is great for you, and your enthusiasm is a great sign of motivation, you need to exercise more than just your body. You should exercise caution about what your body is ready to do, and what its limits are. If you push yourself too hard right away, you could end up needing medical care for tennis elbow.
What is Tennis Elbow?
Tennis elbow (lateral epicondylitis) occurs on the outside of your elbow, right above the bony bump. It is caused by repetitive motions of the arm or wrist, such as the rotation and swing of the tennis racket. This repetitive damage not only weakens the muscles, but in serious cases, it can tear the tendons where they attach.
When you have tennis elbow, you will likely have pain and possibly swelling on the outside of your elbow, and it might radiate all the way down your forearm and into your wrist. The pain can come with muscle weakness, making it difficult to hold a cup, turn a doorknob or even shake hands without difficulty.
Despite its name, it also occurs through a number of other activities, and is a common work-related injury in some fields. Choosing a different sport will not necessarily protect your elbow – it can also occur in baseball, bowling and any sport involving a racquet, including squash or even badminton.
Treating Lateral Epicondylitis
Tennis elbow is usually found on your dominant side. The most important prevention techniques include maintaining your arm strength during the winter, ensuring you are warmed up with light activity before starting a match and paying attention to maintaining proper form. Taking days off for recovery is also important.
If you do develop lateral epicondylitis, you should stop the activity until the tendons heal. This can vary from person to person, and recovery time can be improved with proper treatment. Ortho Sport & Spine Physicians can help relieve the pain of tennis elbow and minimize the chance of recurrence. Contact our office today for a consultation and get back to the sport you love.
Posted on behalf of Ortho Sport & Spine Physicians