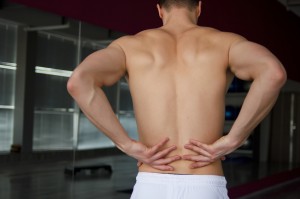 We've arrived smack-dab in the middle of the post-Thanksgiving, pre-Christmas holiday season. It's a time for fun and festivities, but also a time for packing on the pounds, thanks to huge holiday meals, complete with treats that add loads of extra calories. Many people also tend to fall off of their normal workout routine this time of year, causing the needing on the scale to creep up even more.
While a few extra pounds can seem like a small problem, if you're living with chronic back pain or any number of other spinal conditions, added weight can worsen symptoms and leave you sitting on the sidelines all season long.
Why? Extra body fat damages backbone discs by putting added weight on your spine. If you've got back problems, this taxes those already weak muscles and puts pressure on the tissue around your vertebrae. It can also throw off the alignment of your spine and cause you to slump – the perfect recipe for chronic, lower back pain.
This holiday season, protect your back by sticking with a light exercise routine. Even a 20-minute walk can make a big difference in the health of your spine. Exercise and physical activity help control your weight and strengthen your core, which protects vulnerable back muscles. Also remember to be careful when lifting heavy boxes or objects, and try to get up and walk around if you've been sitting for long periods of time.
If you are suffering from a painful back or spine condition, remember to call the specialists at Ortho Sport & Spine Physicians. We offer the latest in interventional spine treatments, and thanks to our lower provider-to-patient ratio, we can help ensure that you get only the best, most individualized care.
Posted on behalf of Ortho Sport & Spine Physicians