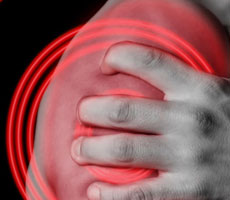 The stress of today's world has millions of people feeling like they are carrying the weight of the world on their shoulders. For many of those people, the pain in their shoulder is real and it has an effect on their daily routines. Some people experience short-term pain from an injury while others have ongoing chronic discomfort. Three popular causes are damage to the rotator cuff, shoulder impingement and bursitis.
Rotator Cuff Damage
There are four small muscles and tendons connecting the arm to the shoulder. This group of connectors is called the rotator cuff. Bruising and inflammation of the tendons can lead to pain with certain movements of the arm. Overhead movements, such as reaching for an object on a shelf, can cause pain. Sleeping on the side of the injured arm and reaching behind your back can also be painful.
Rotator cuff problems need to be addressed in order to ease the discomfort. This condition affects many older Americans and is often caused by normal wear and tear. Over-the-counter pain relievers and icing the injured shoulder may help. Individuals suffering from chronic pain should seek medical attention. A cortisone injection and physical therapy may be recommended.
Shoulder Impingement
Impingement is another common cause of shoulder pain. This condition is often the result of repetitive overhead movement. Swimmers are susceptible to shoulder impingement. In this situation, the tendons and bursa of the shoulder become pinched between the bones. Arm movement becomes painful, especially overhead motion and reaching back. Sleeping on the affected side may also cause symptoms to increase.
Physical therapy is recommended for this condition. Neglecting treatment can lead to a weakened rotator cuff. Physical therapy can stave off further damage and alleviate the pain. Stabilizing the muscles and strengthening them is required to relieve the impingement.
Bursitis
There is a tissue-thin sac of fluid that cushions the shoulder bones, tendons and muscles. This is called the bursa. There are many bursae throughout the body. They reduce friction during movement. They also act as shock absorbers.
Shoulder pain from bursitis is usually the result of repetitive overhead motions. Athletes participating in sports like basketball and swimming may experience bursitis. The repeated motions involved can irritate the bursa and cause it to become inflamed. Generally, physical therapy and cortisone injections alleviate the pain. Sometimes a simple outpatient surgery is necessary.
Shoulder pain should not go untreated. Proper diagnosis and treatment are necessary to prevent further damage.
Posted on behalf of Ortho Sport & Spine Physicians