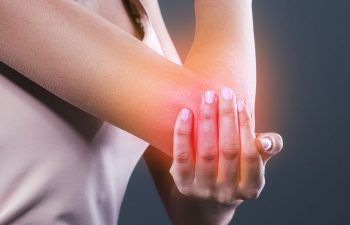 If you have constant pain on the outside of your elbow, you may be suffering from tennis elbow. Tennis elbow can affect anyone who performs repetitive tasks using the arm, hand and wrist. Pain from this condition can keep you awake at night and affect your quality of life. Here are three tips to help you sleep better with tennis elbow.
Sleep on Your Back
Many people have the habit of sleeping on their side at night. This position can aggravate tennis elbow by restricting blood flow to the injured tendons. Sleeping on your back relieves any pressure placed on your arm and helps boost healing while you rest.
Support with Pillows
You can still experience pain and discomfort from tennis elbow even if you sleep on your unaffected side. Sleeping in this position can cause the upper arm muscles to place strain on your elbow. It can also cause you to twist your forearm and create additional stress on the injured tendons. You can prevent this from happening by supporting your affected arm with a pillow. The pillow can relieve tension and hold your forearm in place while you sleep.
Use a Brace
A tennis elbow brace can provide you with comfort and support during the night. The brace can reduce pressure on the injured tendons. It works to reduce pain by keeping the forearm muscles from contracting fully. This can be ideal for individuals who clench their fists while they sleep.
Tennis Elbow Treatment Options
At Ortho Sport & Spine Physicians, our highly experienced team of physical therapists can help you find the most effective tennis elbow treatment for you. We offer minimally invasive surgical techniques that not only will help you sleep better, but will also eliminate your pain and restore full function and strength to your elbow. Contact us today to schedule an appointment.
Posted on behalf of Ortho Sport & Spine Physicians