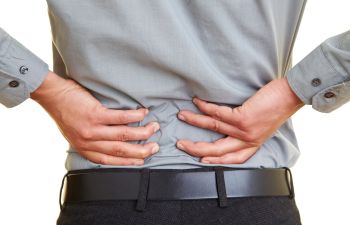 There is a little known muscle known as the psoas. You pronounce it "SO-as." It's surprising how so few people have ever heard of this muscle due to the fact that it is so vital to all movements. Almost all activities and sports that you participate in require the recruitment of your psoas muscles. They are the chief connectors between your torso and your legs. Their location and function make them affect both your posture and your spine. You can read more about psoas here.
If you're experiencing low back or pelvic pain your tight or overstretched psoas muscle could be to blame. Weak psoas muscles can cause many of your surrounding muscles to compensate and become overused.
There are behaviors that compress the front of your hip and cause your psoas muscle to shorten. Common causes of back and hip flexor pain related to your psoas muscles include:
Sitting for extended periods of time
Running or walking in excess
Doing sit-ups in excess
Sleeping in a fetal position
If you have back pain or hip pain call Ortho Sport & Spine Physicians today. We will diagnose the cause of your pain, and if it is related to the psoas we will include a regimen of therapy, strengthening and stretching of the surrounding muscles. Learning proper technique and slight alterations to your sport or exercise movements can help keep you healthy, active and ready for your activity of choice.
Posted on behalf of Ortho Sport & Spine Physicians