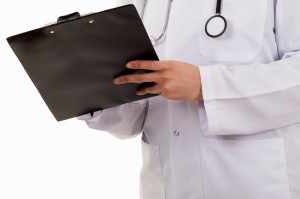 We've got a bedtime tip for chronic back pain sufferers or those living with a sports injury. Before turning in for the night, grab some Epsom salt and run a bath.
Warm baths can help relieve musculoskeletal pain associated with conditions such as chronic back pain, arthritis and fibromyalgia by increasing blood circulation, relaxing stiff or tight muscle groups, and decreasing compression on joints and ligaments. It can also help decrease some swelling and inflammation associated with spinal pain and sports injury.
How Epsom Salt Can Help
Epsom salt is actually magnesium crystals. Magnesium is a mineral that's good for both bone and heart health, and adding it to a warm bath may help to encourage muscles and joints to loosen up and relax, according to some small studies.
To get the most out of your bath, run warm (not scalding) water to fill the tub, and add 1 to 2 cups of Epsom salt, then soak for about 20 minutes. Experts also recommend drinking plenty of water before and after to stay hydrated, and to do some gentle stretches while in the water.
Also, if you're recovering from an injury, or suffering from a serious back or spinal issues, remember that it's important to always consult your physician before beginning any type of at-home treatment.
For more information about treatment for sport or spinal injury, call Ortho Sport & Spine Physicians. Our fellowship trained team is here to answer your questions, and get you back to feeling your best as quickly and safely as possible.
Posted on behalf of Ortho Sport & Spine Physicians