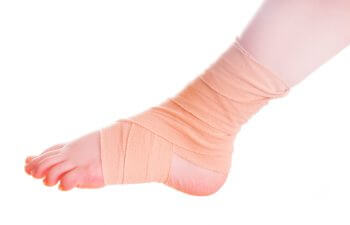 Achilles tendinitis is qualified as an "overuse injury" of the Achilles tendon, which is the band of tissue that connects the calf muscle at the back of the lower leg to the heel bone. Achilles tendinitis most regularly occurs in runners and middle-aged adults who participate in recreational sporting activities. Symptoms of achilles tendinitis usually begin with a mild ache in the back of the leg after a period of activity. Many people suffer from episodes of more severe pain after prolonged use.
The physicians at Ortho Sport & Spine Physicians will give each patient who complains of achilles pain a physical exam to determine the exact location of pain and tenderness. We will also evaluate the flexibility, alignment, and range of motion of the foot and ankle to determine the extent of injury. At Ortho Sport & Spine Physicians, we are devoted to using the most advanced and minimally invasive treatment methods to help patients who suffer from achilles tendinitis. We don't want to just treat the symptoms. We are here to help our patients find long term relief from the pain associated with achilles tendinitis so that they can return to their active lifestyles.
Ortho Sport & Spine Physicians focuses on relieving the pain that our patients are undergoing, improving the function of their ankle, and preventing symptoms and injury from reoccurring in the future. Our physicians work one on one with each of our patients in order to provide them with the best, most personal treatment plan that they need.
You do not have to live with the pain and discomfort of your achilles tendinitis, and they do not need to keep you from the active lifestyle that you enjoy. Contact Ortho Sport & Spine Physicians to schedule an appointment for consultation with one of our physicians. Our goal is to help you stay healthy and active so that you can live your best life!
Posted on behalf of Ortho Sport & Spine Physicians