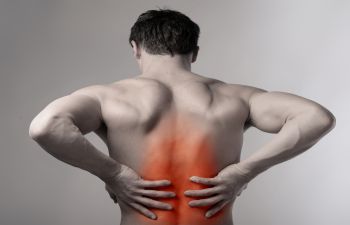 It seems unlikely that a normal, everyday action could cause severe lower back pain. However, at Ortho Sport & Spine Physicians, we have treated patients who have injured their backs in just this manner. Normal lifting actions – such as lifting grocery bags – is a common cause of back issues. Routine tasks that cause the spine to twist and bend, such as cleaning, could also cause debilitating agony. Even a violent sneeze can act as the trigger for abject suffering.
Symptoms that Point to a Herniated Disk
The spinal column consists of vertebrae, and between each of these structures rests a fluid-filled, jelly-like disk. The purpose of this part of the spinal column is to absorb impact to the backbones from activities like walking, bending and twisting. Over time, intervertebral disks can begin to deteriorate from wear and tear. Should these disks become severely weakened, even a minor movement can force the disk to herniate.
There are several symptoms that indicate an intervertebral disk has herniated. You may experience pain in the back that radiates to the legs. Some patients have reported numbness, tingling and muscle spasms as the material protruding from the disk presses on the spinal nerves. In extreme cases, the gel-like fluid can break through its protective barrier or leak through to the spinal canal. This can cause inflammation of the area.
Treatment May Not Require Surgery
It can be tempting to downplay the impact of back pain or put off seeking medical advice. Many people do not like the idea of undergoing surgery. Significant post-surgical recovery times can impact career prospects or family life.
At Ortho Sport & Spine Physicians, we recommend obtaining a consultation as soon as discomfort is identified, as early treatment solutions are minimally invasive and non-surgical. We collaborate with physical therapists and chiropractors to manage the symptoms of a herniated disk.
Seek Relief from Back Pain Today
If you think you may have the early symptoms of a herniated disk, or if you believe the condition has progressed significantly, do not hesitate to contact Ortho Sport & Spine Physicians in Georgia today.
Posted on behalf of Ortho Sport & Spine Physicians