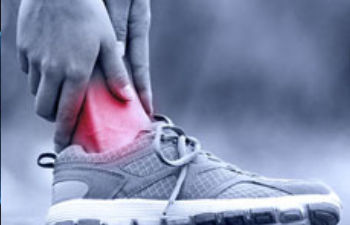 Chronic ankle instability can make you hyper-aware of your vulnerability to falling. When the outside of the ankle has a recurring feeling like it is going to "give out" when you put weight on it, you may have this condition. Ankle instability is most often felt when walking on uneven surfaces, walking in high heels, running or sometimes just standing. This is common among athletes, especially those who have had repeated ankle sprains.
In addition to the feeling that it may give out on you, you may have persistent discomfort and swelling in your ankle. Tenderness and pain is another symptom of this condition. It is common for people with ankle instability to turn their ankle when walking on uneven ground and when participating in sporting activities.
Causes of Ankle Instability
An ankle sprain that has not had enough time to heal or has not been rehabilitated completely can lead to ankle instability. Stretched or torn ligaments will affect your ability to balance properly. The muscles around the ankle need to be strengthened and properly rehabilitated. The injury also needs to have time to heal properly. When these are neglected, you may experience repeated ankle sprains.
Chronic ankle instability occurs with multiple sprains. Each time your ankle is injured in this way, the ligaments are stretched and weakened, which results in more instability. This can also lead to other problems with your ankle.
Treatment for Ankle Instability
After diagnosis, your doctor will develop a treatment plan. Surgery is reserved for more severe cases of ankle instability. If repair or reconstruction of the damaged ligament(s) needs to be done, your doctor will explain which procedure will be most effective for your injury.
Non-invasive treatments may include:
Physical therapy – this can include exercises and treatments to strengthen the ankle and improve your balance and range of motion.
Bracing – you may require an ankle brace to help support weak ligaments. The brace can also help you to avoid additional sprains.
Medication – NSAIDs are often used to help alleviate pain and inflammation.
Your doctor will suggest the best treatment for you. If your injury is sports-related, you may also require specific retraining in that field.
Ortho Sport & Spine Physicians can help you stabilize your ankle and get you back on the playing field. Contact our office to schedule an appointment for consultation.
Posted on behalf of Ortho Sport & Spine Physicians