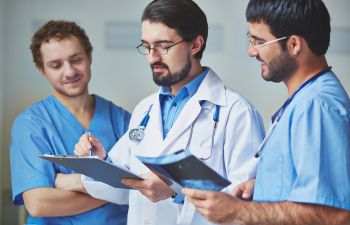 The ankles are among the most commonly injured parts of the body, but many conditions can be treated effectively without major surgery and scarring. Here at Ortho Sport & Spine Physicians, we specialize in treatments to get you back on your feet.
What Ankle Conditions Can Ankle Arthroscopy Diagnose and Treat?
Arthroscopy is an evolving technology that can be used to diagnose and treat problems such as:
Ankle arthritis
Bone spurs
Ankle instability
Ankle fractures
Free-floating cartilage or bone fragments (loose bodies)
Synovitis
Ankle fractures
Anterior and posterior ankle impingement
Arthrofibrosis (scar tissue)
What Are the Benefits of Ankle Arthroscopy?
Ankle arthroscopy uses small incisions and a thin camera called an arthroscope to accurately diagnose and treat ankle problems.
Arthroscopy is a minimally invasive procedure. Compared to the alternative, open ankle surgery, patients benefit from:
Less tissue damage
Less scarring
Lower chance of infection
Less pain
Faster recovery
Shorter hospitalization
Earlier mobilization
Smaller incisions
What is Involved in The Ankle Arthroscopy Procedure?
An Ortho Sports & Spine Physicians surgeon will inject the ankle with an anesthetic numbing agent to make the procedure pain-free. Then the surgeon will typically make 2 or 3 small incisions around the ankle joint. The foot is extended/pulled to create just enough space for the surgeon to see and insert the arthroscope (camera). The arthroscope is inserted into the joint via the incisions, allowing the surgeon to see the entire joint area. A sterile solution is pumped into the joint to improve visibility and allow the surgeon to perform other procedures.
The surgeon will determine the extent of the damage so that it can be correctly treated. Depending on the treatment needed, small surgical instruments are inserted through the other small incisions to treat the problem. After the surgery, the surgical instruments are removed, the incisions are closed and the area is covered with a bandage.
After Treatment Care and Recovery
Most patients are able to go home on the same day. The bandages will remain on for two weeks. You will need to use crutches and a special sandal to aid your recovery.
The pain should greatly decrease in the week after the surgery and you will be able to resume some normal activities, such as walking short distances. After two weeks, it may be possible to return to work.
Once the wounds have fully healed, you can go swimming. Three to four weeks after surgery, you will be able to resume low-impact exercise.
If you have recently suffered an ankle injury or would like to seek treatment for chronic ankle pain, contact our office to schedule a consultation to discuss the best treatment options for you.
Posted on behalf of Ortho Sport & Spine Physicians