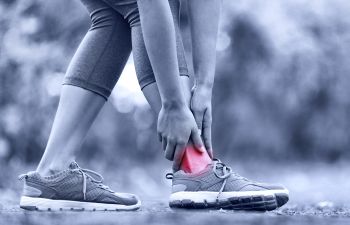 If you imagine any stable manmade structure, there is always a strong foundation. The function of a foundation is as a base that bears and balances weight loads and forces from above.
The same principle can be applied to human ankles, with the exception that these load-bearing joints also have to absorb the forces associated with motion. Walking, running, pivoting and other movements all put strain on the ankle joint and its core components.
Ankle Anatomy
The ankle anatomy is more complex than it may appear to the naked eye. There are bones, ligaments and tendons that all work together to allow the foot to rotate, move up and down and side to side. Injury to any of these structures can result in pain, discomfort, and limited range of motion.
The basic anatomy of the ankle includes:
The shin bone (tibia)
The bone adjacent to the tibia (fibula)
The foot bone (talus)
The visible bony structures of the ankle include:
The medial malleolus, (inside of the ankle)
The posterior malleolus (back of the ankle)
The lateral malleolus (outside of the ankle)
Injuries range from minor sprains to complex fractures. There are also numerous health conditions, both genetic and otherwise, that can impact the function of the ankle. If you are experiencing problems walking that appear to stem from one or both ankles, Ortho Sport & Spine Physicians can provide specialist treatment.
Southeast US Orthopedic Specialists
We treat a wide range of ankle conditions including:
Achilles Tendon Repair
Ankle Arthroscopy
Ankle Cartilage Repair and Reconstruction
Ankle Fractures and Dislocations
Ankle Instability Repair
Microfracture Ankle Surgery
As an active athlete, it is important to look after your base. The lower joints, such as the ankles, knees and hips, provide a stable foundation that allows you to compete at your best. Most injuries and health conditions affecting the ankles are reversible with the right kind of treatment, delivered as early as possible in the progression of the condition.
If you would like an ankle injury consultation in the Southeast, reach out to Ortho Sport & Spine Physicians to benefit from specialist care from double board-certified physicians and sports medicine experts.
Posted on behalf of Ortho Sport & Spine Physicians