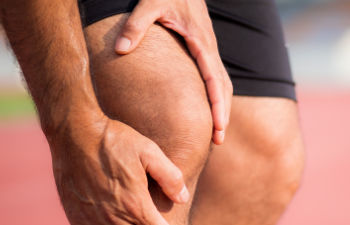 The anterior cruciate ligament, or ACL, is a major ligament in the knee. It is crucial for the stabilization of the knee joint. Your thigh bone and shinbone are connected by the ACL. It prevents the shin bone from moving forward past the thigh bone. Injuries to this ligament are among the most common in sports and other physical activities.
Risk Factors
Knowing the risk factors may help reduce your chances for injuries. There are several that can increase your risk:
Being female. Women and girls are at a higher risk than males. In fact, ACL tears are three times more common in female athletes. Differences in anatomy, hormones and biomechanics are theorized to be reasons for the increased risk.
Poor conditioning. Being out of shape causes an individual to be more vulnerable to injury.
High risk sports such as football, soccer, basketball, gymnastics and downhill skiing.
Ill-fitting footwear. If your shoes do not fit well for the activity, you risk getting injured.
Once you sustain an ACL injury, your chance of developing osteoarthritis in the knee increases. This can happen even if your ligament is reconstructed with surgery.
Lower the Risk with Prevention
Preventing ACL injuries requires proper training, exercise and an awareness of your gear. Exercise is key in balancing your leg muscle strength. Leg exercises, especially those that work the hamstring muscle, will help. Exercising your core muscles is also helpful. Look for exercises that strengthen the lower abdomen, pelvis and hips.
Landing wrong is one of the common sources of ACL injury. Learn to land properly when jumping. Get trained in techniques for landing and performing cutting and pivoting motions. Females need to take special precautions. Practicing proper techniques will help keep your knees healthy and injury-free.
Check your gear and make sure it fits properly and is in good repair. Downhill skiers should always check the bindings to ensure they are adjusted properly. If you fall, the bindings should release appropriately.
Padding and protective gear is important in competitive sports. Be aware that wearing a knee brace will not necessarily prevent an ACL injury; nor will it lower your risk if you have had surgery.
The professionals at Ortho Sport & Spine Physicians can advise you on exercises to help strengthen your knee joints. We are known for our compassionate, patient-centered care. Make an appointment for a consultation and keep your ACL in good health.
Posted on behalf of Ortho Sport & Spine Physicians