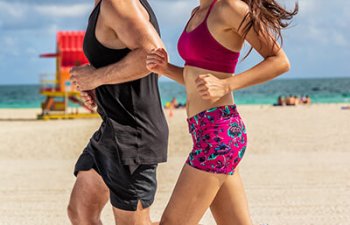 The past year was unbelievably stressful for people all over the world. Individuals who normally work off their stress at the gym had to find new ways to cope as gyms closed because of the pandemic. Many took to walking, jogging or running, which are all good ways of staying active and relieving stress. The only drawback is the way these activities can affect your back if you are not careful.
Gearing Up for Activity
When choosing to exercise, it is always important to have the right equipment in order to safely work out. The shoes you wear can have a positive or negative impact on your body. The correct shoes are critical in preventing problems.
When you run or jog, especially on hard surfaces like pavement, it is important to have shoes that are supportive of your spine and cushioned. The best shoes will act as shock absorbers when your feet hit the ground. Ideally, you can visit a store that specializes in running gear. These stores have people who can explain the different types of shoes and the advantages and disadvantages of the shoe designs.
Warming Up
Exercising without warming up is asking for problems. This is an essential part of your exercise routine. The time spent warming up reduces your risk for injury. It gets your body ready to move as your cardiovascular system gradually revs up. The increased blood flow to the muscles before starting exercise helps increase the flexibility.
Start Slow
If you are just making the decision to get active, you should start slow. For those who have not been in the habit of exercising, instead of starting with running or jogging, it may be better to start with walking and work up to the other. Walking by itself is a good exercise and the perfect transition activity for jogging or running.
Any activity is better than none at all. Before starting a new routine, it is always best to get approval from your doctor. Contact Ortho Sport & Spine Physicians to ensure your spinal health.
Posted on behalf of Ortho Sport & Spine Physicians