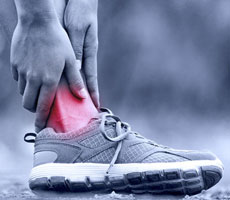 If you run for leisure or sport, looking after your feet is essential. The right running shoes will improve form, speed, endurance and help reduce the risk of injury. There are also different types of running shoes that are suited to specific surfaces.
Repetitive impact is an unavoidable result of running. The type of surface that you run on will dictate the level of impact. Whether you run on grass, pavement or rougher terrain, avoid wearing ordinary sneakers. A proper running shoe will absorb shock, provide cushioning and support the structures of your feet.
Choosing Running Shoes
The two main types of running shoes are the road shoe and trail shoe. If you are running on street pavements, the former is ideal. However, those who love to get out on the trails should opt for the latter type of shoe, as it will offer better support for rough, uneven terrain.
The arches of the feet require support when running. If you are unsure which shoe is best for the shape of your foot, consult with an experienced orthopedic specialist. Runners who roll their heels a lot should also choose a shoe that helps with stability.
Do not base your running shoe choice on initial comfort alone. If you feel that your current running shoes are not providing the right support, purchase a new pair. Runners who frequently suffer injury should speak to an orthopedic doctor who has a sports medicine background. Never try to run through the pain of a foot injury. Seek diagnosis if pain, inflammation or instability persists.
Call the offices of Ortho Sport & Spine Physicians today if you have suffered a running injury. We understand foot mechanics and can help you get back to doing what you love quickly and safely.
Posted on behalf of Ortho Sport & Spine Physicians