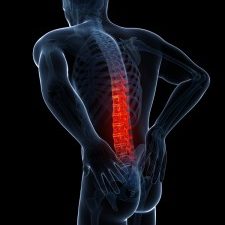 Whether it's from sitting at a desk all day or lifting something that was just too heavy, chronic and acute back pain is one of the most commonly experienced pain conditions in the U.S. In fact, upwards of 26 million Americans experience back pain and according to the American Academy of Pain Medicine, it's the leading cause of disability in people under 45.
While many people opt to manage the pain with just the help of over-the-counter pain relievers, there are other, more effective ways to beat your back pain, including working with the double-board certified pain physicians at Ortho Sport and Spine Physicians. We utilize minimally invasive procedures and cutting edge techniques to get you lasting relief from back pain, starting with a complete examination looking at family and medical history to help pinpoint the source of your pain.
The team at Ortho Sport and Spine Physicians also wants to empower our patients to take control of their conditions with healthy lifestyle changes that can support quicker healing and recovery, such as:
Quitting smoking. In addition to improving your overall health, kicking your smoking habit can also have a positive effect on your pain. Some research suggests that nicotine can damage muscle tissue and reduce circulation in your joints and muscles – bad news for people living with low-back pain.
Eating well. Nutrient-dense diets loaded with fruits, veggies, proteins, whole grains, and healthy fats can help to reduce inflammation and pain. Try loading up on foods like salmon, avocados, olive oil, grapes, and nuts to help manage your back pain.
Reducing activities that aggravate pain. Rethink your daily routine and try to forego movements and activities that complicate and aggravate backaches. If you sit at a desk, make sure to stand up and take breaks, and ask your physician about stretches you can do at the office. Avoiding heavy lifting and working with your doctor to determine the best position for sleeping can also help, depending on the cause of your pain.
Posted on behalf of Ortho Sport & Spine Physicians