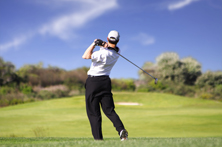 You hear a lot of words thrown around when you've been faced with a sport or spinal injury, words like surgery and injection. A word you may be less familiar with is biologic – a treatment method offered at Ortho Sport & Spine Physicians that utilizes harvested natural products, such as tissue, to encourage the body's natural ability to heal.
Many experts consider biologics to be part of the new frontier in the field of sports medicine, and according to The American Orthopaedic Society for Sports Medicine, they "may improve the biomechanical quality of healing beyond that achieved by surgery, which can meet the unique demands athletes and even the general population place on their tissue."
At Ortho Sport & Spine Physicians, we offer biologic treatments, including injections and grafting, for conditions such as osteoarthritis, cartilage repair and joint preservation. This type of treatment is also a great option for young and active athletes and adults who suffer from joint pain and dysfunction or tissue damage. And many have used biologic medication for relief from joint conditions such as arthritis and rheumatoid arthritis.
To learn more about the biologic treatment options we offer at Ortho Sport & Spine Physicians, give us a call today and schedule a consultation.
Posted on behalf of Ortho Sport & Spine Physicians