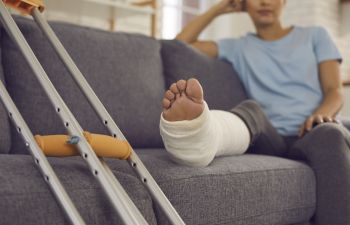 After a bone fracture, the bone will go through various processes to repair itself. During this process, you can expect to feel different types of pain. This pain can be treated with prescribed or over-the-counter pain medication, ice packs or heating pads, elevation and other pain relief methods. What type of pain will you feel through the healing stages?
Acute Pain
Acute pain is often the strongest and most likely to be treated with pain medication. It's the pain felt when the fracture occurs and will slowly subside into sub-acute pain. To do this, the bone will most likely be immobilized in a cast after being set in place. Surgery may be required to stabilize the fracture and aid healing for more complex bone fractures. Once the bone is immobilized, this can significantly decrease the pain you feel.
Sub-Acute Pain
Once the fracture is mostly healed, you will need to regain the range of movement you lost while the area was immobilized and most likely swollen. Physical therapy can help with this and help build confidence in moving your body in the correct position again. Movement may be uncomfortable, so pain relief may also be prescribed until it's easier and less painful for you. Your doctor and physical therapist will guide you on the appropriate amount of use for the previously fractured area and gradually increase it.
Chronic Pain
Most patients will heal completely from a bone fracture and never experience pain again. However, a few may feel chronic pain long after the fracture has healed. This could be the occasional twinge of pain when standing after an ankle fracture or a constant ache when using your wrist throughout the day. Chronic pain is more challenging to treat, so you'll need to work closely with your doctor and a pain management specialist to keep it under control and limit its effect on your daily life.
Ortho Sport & Spine Physicians is a team of experienced surgeons ready to treat broken bones, from simple breaks to complex and compound fractures requiring more extensive repair. If you've suffered a broken bone, contact one of our conveniently located clinics where a specialist can evaluate your condition and begin treatment immediately to help relieve your pain and start the healing process.
Posted on behalf of Ortho Sport & Spine Physicians