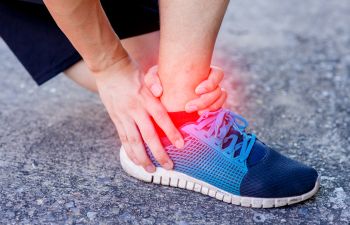 Chronic ankle instability is typically caused by an acute injury and can lead to many more problems if not properly treated. The good news is that it can be treated and that there are non-surgical therapies available that are usually effective. If you suspect instability or another provider has given you a diagnosis, seeing a specialist can help determine the best possible treatment for you.
Causes of Chronic Ankle Instability
The most common cause of chronic ankle instability is an injury. During an ankle sprain, the tendons and ligaments stretch beyond their usual range of motion. Because of this, sometimes they don't recover well, leaving the ankle weak and susceptible to another sprain. A sprain is not the only cause of instability. A bone fracture, swelling or scar tissue in the joint or even arthritis can all contribute to an unstable ankle.
Recurring Ankle Sprains and Other Symptoms
You may have noticed that after you sprained your ankle the first time, it was quite easy to sprain it again. This is only one symptom of chronic ankle instability. Chronic symptoms outside of an acute injury can also include a feeling of weakness in the ankle or pain, stiffness, swelling and tenderness.
The Diagnosis
Reaching a proper diagnosis of chronic ankle instability is fairly straightforward. Your provider will typically start with a physical exam as well as learning your medical history, including any previous injury to the ankle. A balance test can be used to determine the severity of the instability and if it affects your everyday movements. Your provider may also order imaging tests to look for any other underlying causes of your symptoms before arriving at an official diagnosis.
Surgical and Non-surgical Treatments
The type of treatment your provider recommends for you will be based on what they see during your exam and any imaging they ordered for you. Non-surgical treatments are very effective for many patients with chronic ankle instability and typically include anti-inflammatory medication, wearing a brace and seeing a physical therapist. If surgery is necessary, your surgeon may repair or tighten the ligaments that have been stretched.
An experienced orthopedic specialist can help diagnose chronic ankle instability and also create a treatment plan for you, based on your previous injuries and symptoms. Contact Ortho Sport & Spine Physicians today to schedule your appointment.
Posted on behalf of Ortho Sport & Spine Physicians