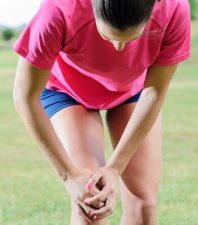 The knee functions to allow movement of the leg and is a critical component to walking. When the knee is not functioning properly or has consisted pain when in motion, walking and other knee pain are injury, degeneration and arthritis. Risk factors for knee pain include athletic activity, aging and obesity. Athletic activity puts an increased amount of stress on the joints, especially during high impact activities such as running and tennis. Obesity also places extra stress on the knee, as it must bear more weight than the knee is designed to handle. For each extra pound that a person gains, the knee must bear five pounds of pressure; therefore, obesity is considered a significant risk factor for chronic knee pain.
At Ortho Sport & Spine Physicians, our physicians are dedicated to helping patients find relief from their chronic knee pain. For those who have always been physically active, relief means that they are able to resume their normal activities. For those who are overweight or obese, finding relief from chronic knee pain can mean that they can start a healthier lifestyle that includes losing weight and becoming active.
For those who have chronic knee pain due to an injury, Ortho Sport & Spine Physicians can accurately diagnose the source of the pain. Whether it is from a ligament tear, arthritis, bone degeneration or a strain — our physicians can help you find relief in order to resume your normal, active lifestyle.
Posted on behalf of Ortho Sport & Spine Physicians