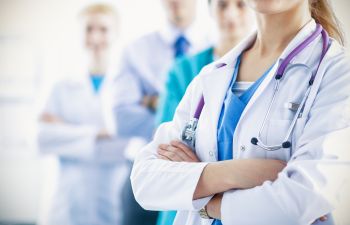 At Ortho Sport & Spine Physicians, we treat all kinds of sports related injuries. Our physicians specialize in helping athletes recover from injuries and return to peak performance levels. We use the most advanced and minimally invasive treatment methods for all of our athletes. Our goal is to help you recover so you can enjoy long-term relief and allow you to return to your activity of choice in a healthy and safe manner.
There can be confusion between an injury and muscle pain and soreness. Pain and injury are not the same thing, but they can often be confused. Often times, athletes will brush off a legitimate injury and self-diagnose it as muscle pain. This self-diagnosing can be dangerous if your "hunch" is incorrect. Ignoring or mistaking an injury for pain can cause long-term damage, if untreated.
If you have a sports related injury it's usually a result of something specific happening during an activity. You may have felt a pop or snap during a movement. An injury is often a result of an activity that pushed your body past its threshold. An injury typically manifests some sort of overt physical symptom such as swelling or bruising. Another big indicator that you have an injury is the loss of function. If you're experiencing sharp or stabbing pain, burning, tingling or numbness, these are all symptoms that you need to seek medical attention as well.
Call and book your appointment with Ortho Sport & Spine Physicians as soon as you suspect that you might have a sports related injury. Timing and diagnosing your injury are important factors when it comes to getting you back to your optimal physical abilities.
Posted on behalf of Ortho Sport & Spine Physicians