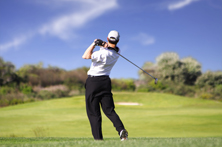 The Masters are over and they've left everyone with the desire to head out to the golf course to try to attempt the amazing shots made during the tournament. Golf is a great sport. Most people consider it a relatively safe sport considering the lack of contact involved with other players, objects and the ground. However, golf does have its list of common golf related  injuries associated with it. There are some not-so-common injuries as well. Did you hear about golfer Tony Finau? He hurt his ankle while running backward after making a hole-in-one in the Par-3 Contest before the Masters even started.
According to the Golf Channel and Golf Fitness Magazine there are 10 factors that lead to the most common golf injuries.
Back Pain
Tendinitis in the Elbow
Knee Pain
Rotator Cuff
Wrist Injuries
Hand and Finger Injuries
Neck Injuries
Foot and Ankle Injuries
Hip Injuries
Sunburn
Ortho Sport & Spine Physicians is here to help keep you swinging at the golf course, even after an injury. If you suffer from a rare ankle injury, like Tony Finau, we offer exceptional treatment for your ankle pain or injury. We also treat common golf injuries such as rotator cuff tears.
You can trust Ortho Sport & Spine Physicians' sports medicine specialists to accurately diagnose your golf injury and recommend the most effective treatment option for your restored function and long-term health, on and off the course.
Posted on behalf of Ortho Sport & Spine Physicians