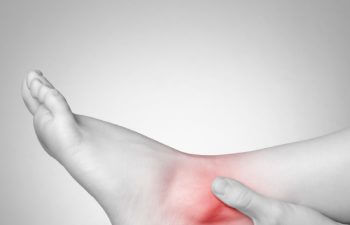 It is not uncommon to experience instability after spraining your ankle. Wearing a brace and completing a physical therapy program usually prevents instability from becoming a long-term problem. However, sometimes chronic instability is still an issue. The solution to the problem depends mostly on what is causing the instability.
The symptoms of chronic ankle instability are easy to feel. Most report discomfort on the outside of the ankle that ranges anywhere from a dull ache to sharp stabs. You may also feel as if your ankle wants to roll toward the outside when walking on uneven ground.
Ankle Sprain that Hasn't Healed Properly
A sprain is a soft-tissue injury caused by the ligaments of a joint being stretched or torn. Most ankle sprains are caused by rolling your ankle outward. If you could not treat the sprain right away or if the sprain was severe, it could lead to chronic ankle instability.
Repeated Ankle Sprains
Unfortunately, once you have sprained your ankle once, it is much easier to sprain it again. This is especially true if the original injury has not completely healed yet. With each additional ankle sprain, the chronic instability becomes worse and less likely to improve on its own over time.
Certain Types of Sports
Some sports are more damaging to the ankles than others. For example, ballet dancers and those who participate in gymnastics rely heavily on their feet and ankles to support their weight. Other sports like basketball and football require players to quickly change direction while on the court or field. The ankle joint takes much of the force during these actions.
When rest, ice, protective braces and even physical therapy are not enough to alleviate the symptoms of chronic ankle instability, it is time to seek the help of an orthopedic specialist. Ortho Sport & Spine Physicians may be able to reduce or reverse the damage done to your ankles over time. Call to make an appointment today to find out just what our specialists can do for you.
Posted on behalf of Ortho Sport & Spine Physicians