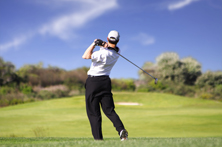 Fall is a great time to hit the golf courses in the Atlanta Area. We have some of the most beautiful and greatest golf courses around! According to Golf Digest, Augusta National Golf Course is the top course in Georgia. Wasn't it exciting to watch Patrick Reed capture the Masters Championship this year in Augusta? Take a look at Golf Digest's complete list of "The Best Golf Courses in Georgia"  here.
If you're hitting the golf course for the first time, reentering the game, or playing on an almost daily basis, there are common golf injuries to be aware of. Most of these issues are caused by overuse of your muscles, poor techniques or mechanics and repetitive movements. There are occasions when trauma causes a golf injury as well.
Common Golf Injuries
Back pain
Elbow Tendonitis
Rotator Cuff (shoulder pain)
Knee Pain
Injuries to the Wrist
Finger or hand injuries
Neck injuries
Injuries to your foot or ankle
Hip injury
Sunburn
Golf is a relatively low physical impact sport, when compared to sports such as football and soccer. For this reason, preventing a golf injury is fairly easy. You should learn and employ proper swing mechanics. Obtain golf-specific conditioning programs. Utilize equipment fitted and suited for your specific size and needs. Avoid over use or long practice sessions that require repetitive movements over long periods of time. Always warm up and cool down properly after playing or practicing golf.
Ortho Sport & Spine Physicians specializes in providing relief for injured golfers. Call us today so we can help you get back on the golf course and enjoy your life and your game!
Posted on behalf of Ortho Sport & Spine Physicians