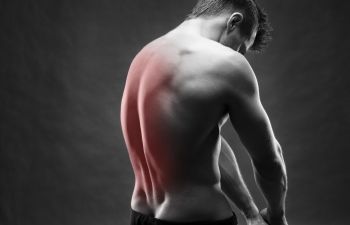 Back pain affects millions of Americans every day. From annoying discomfort to debilitating pain, back problems are one of this country's most common illnesses. Proper diagnosis of the issue is important in order to identify the most effective treatment. A herniated disc may be your problem. But what is that and what causes it?
Disc Injury
The vertebrae of the spine are cushioned with rubbery structures to prevent the bones from rubbing on one another. These structures are called discs. Simply put, they consist of fibrous cartilage on the outer ring which surrounds a gelatinous core. This core is sandwiched between cartilage plates on either side.
If the disc slips out of place, tears or ruptures and presses on the nerve, it causes pain. Herniated disks usually occur in the lower back – lumbar spine area, just above the hips. Pain from this injury can affect your buttocks, thighs and calves as well as your back.
Resting usually reduces the pain, but it resumes with activity. Anything that puts pressure on the pinched nerves can exacerbate the pain. Sneezing, coughing and even sitting can make the pain worse.
Older people tend to experience herniated disc pain more because age is a factor. As you get older, the disks may flatten and lose the cushion, and the cartilage begins to break down.
Identifying and Treating the Problem
Your doctor will do a physical examination and may take X-rays to rule out other problems. Usually a physical exam is enough to confirm the diagnosis of herniated disc. Additional testing may be required if you doctor recommends pinpointing the nerves involved.
Since the problems from a herniated disc may resolve on their own over time, your doctor may take a conservative approach, at least to begin with. Resting relieves the swelling and allows time for healing. It is important to avoid aggravating the problem, so refrain from exercising and activities that involve bending or lifting.
You may need to rest for a day or so, but you also need to move around to keep your muscles and joints from getting stiff. Ice and heat may help relieve the discomfort. Experiment to find whether your back feels better when you ice it or use heat. Some people find that alternating the two provides relief.
Over-the-counter pain medications also help. Ibuprofen helps reduce swelling as well as provides pain relief. Your doctor may also recommend physical therapy or other treatments to help strengthen muscles in your back.
We provide diagnosis and treatments for all types of back pain at Ortho Sport & Spine Physicians. If your back is giving you problems, contact us and schedule a consultation appointment. We can help you feel better fast.
Posted on behalf of Ortho Sport & Spine Physicians