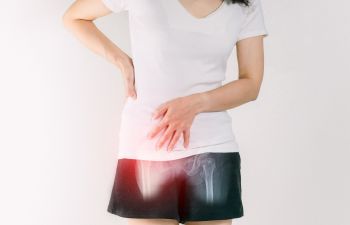 While anyone can need a hip replacement, many people consider this procedure an unpleasant side effect of aging that you aren't old enough to need – until you do. An updated understanding of what hip replacement is for, and for whom, can help you better understand this surgical procedure.
Who Has Hip Replacements?
For many, the first time you hear about a hip replacement is when a grandparent needs one. But, as with everything, age and maturity bring more information. Three types of arthritis can lead to hip replacement: osteoarthritis, rheumatoid arthritis and post-traumatic arthritis. The disease or deterioration can cause painful friction in the hip joint, which requires treatment. While treatment may eventually require hip replacement surgery, less invasive treatments can be used before replacement is necessary.
Due to healthier lifestyles and more physical activity, hip replacements are necessary at a younger age. Therefore, most hip replacements are for people aged 50-80. However, hip replacement surgery is also performed on patients in their teens or early 20s.
Are There Criteria for Hip Replacement Surgery?
Determining whether hip replacement is the answer to a patient's pain and loss of motion includes several factors. A surgeon will consider the amount of pain daily activities cause, whether the pain is experienced during rest, stiffness in the hip joint and range of motion in the hip. Also considered is whether relief can be obtained with other treatments.
Another factor that must be considered before choosing a hip replacement is the patient's weight. All factors are considered individually, but the patient's weight will impact how long the new hip lasts.
The replacement hip may be constructed from metal, plastic and ceramic.
Is Recovery from a Hip Replacement Horrible?
A hip replacement surgery will take a few hours, and a hospital stay is required. It's essential to have physical therapy right after surgery, and the hospital stay will depend on a patient's progress with PT, among other things. With diligence and care, most patients can resume their daily activities in six weeks and full recovery in six months.
Good recovery includes a nutritious diet and consistent but gentle exercise. There is a balance between rest and exercise, and each patient works carefully with their physical therapist to find the therapeutic mix. Pain levels during recovery depend on several factors, including medical history, pain levels before surgery and activity level of each patient.
If you are considering hip replacement surgery due to chronic pain and limited mobility, contact the specialist orthopedic surgeons at Ortho Sport & Spine Physicians and arrange a consultation.
Posted on behalf of Ortho Sport & Spine Physicians