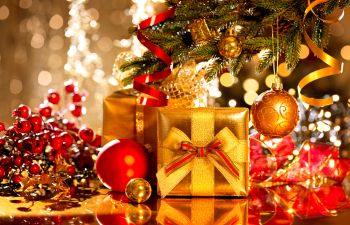 Our team at Ortho Sport & Spine Physicians would like to wish you a Happy New Year. We are honored to enter another year serving you and our patients with our cutting edge, minimally invasive techniques designed to get you back to work or to your desired sport.
If you're looking around your house dreading taking down the holiday decorations now that all the festivities are over, we'd like to encourage you to be careful. The United States Consumer Product Safety Commission (CPSC) warns that safety needs to be taken into consideration when addressing your holiday decorations.
Statistics from the CPSC About Holiday Decorating-Related Injuries:
14,700 holiday decorating related ER-treated injuries. That's an average of about 240 injuries in November and December.
The most frequent holiday decorating incidents involved falls (41%), lacerations (10%) and back strains (5%).
3 deaths involving ladder falls.
While embarking on your climb up your ladder to take down those decorations, here are some things to keep in mind to prevent injury.
Only allow one person per ladder at a time.
Descend down the ladder one rung at a time, and don't attempt to slide or jump off more than one rung at a time.
Ensure that your shoes are free from items in the sole that will promote slipping.
Avoid sudden movements.
Do not overreach or lean to the side while working, causing your ladder to tip.
If you are injured in 2019, contact us at Ortho Sport & Spine. We treat athletes of all ages and skill levels, industrial workers and vehicle injuries. We invite you to visit our facility and meet our caring team so you can experience our difference!
Posted on behalf of Ortho Sport & Spine Physicians