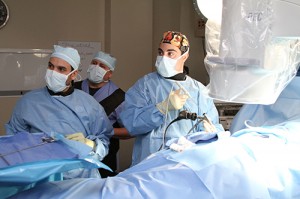 In the fast paced world in which we live, few people have time to go through back surgery to relieve their back pain. With the recuperation time involved and the invasiveness of the procedure, open back surgeries are at times avoided at all costs if they can be. At Ortho Sport & Spine Physicians in Atlanta, we are proud to be one of the Southeast's leading providers of minimally invasive procedures, including Endoscopic Foraminotomy spine surgery. This "Band-Aid back surgery" can achieve amazing results for patients that suffer from chronic or acute spine, back, and neck conditions and injuries. This minimally invasive procedure allows for improved function and long-term pain relief so that patients are able to return to an active, healthy lifestyle.
Nerve roots exit the spinal canal through spaces called intervertebral foramina. Bone spurs, scar tissue, disc fragments, or excessive ligament tissue can occur in some people and exert pressure on the nerves within these spaces. This can compress the nerves, causing pain, tingling, and weakness in the extremities. Patients who experience this nerve compression often have persistent discomfort that can be debilitating and prevent them from performing everyday activities. During an Endoscopic Foraminotomy procedure, the obstruction that is causing the narrowed spinal canal is removed in order to make room for the nerves. There is generally an immediate release of pressure from the nerves, and patients often find that they have rapid pain relief. The overall goal in Endoscopic Foraminotomy is to remove as little tissue as possible from the spinal canal while removing the obstruction. This minimally invasive procedure is done through a small incision with an endoscope, and most patients return home the same day.
If you suffer from chronic or acute pain, please contact Ortho Sport & Spine Physicians today to learn about Endoscopic Foraminotomy and find out if you are a candidate for this minimally invasive surgical procedure. We are dedicated to helping all of our patients find pain relief so that they can stay active and live their best lives.
Posted on behalf of Ortho Sport & Spine Physicians