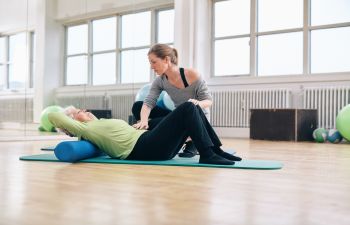 When it feels like your bones are suffering from the wear and tear that comes from aging, exercise is probably not the first remedy on the agenda. Feeling sore when walking, running or sitting is not exactly the stuff of inspiration. However, movement is often the best remedy for a host of ailments.
The level of exercise that may help you will depend on your symptoms and the degree of damage to the bones in question. Finding a balance can lead to better quality of life. You may experience a reduction in pain and discomfort, accompanied by a welcome increase in your range of movement.
Physical Therapy
For injuries and diseases of the bones, physical therapy is often an effective approach for providing relief. The longer you remain in sedentary positions, the more likely it is your health will deteriorate. Lack of exercise can cause joints to lock up, but there are also other issues to consider.
Lack of movement can slow down the metabolism. This is linked to the regulation of blood sugar and blood pressure. The body also has to work harder to break down fat when inactive. Putting on weight and suffering from related health concerns can exacerbate any existing bone problems.
Moderate & Specialist Exercise
Outside of physical therapy, tailored exercise programs are often recommended for sufferers of bone conditions. It is important to understand that there is no expectation that you should push beyond your reasonable limits. With the right professional guidance and support, you can improve bone health through adopting a diet and exercise regimen that is balanced to your needs.
If you are struggling with bone pain or limited movement in one or more joints, reach out to Ortho Sport & Spine Physicians to get a consultation today. We can provide treatment and help you embrace the type of exercises that will improve your bone health.
Posted on behalf of Ortho Sport & Spine Physicians