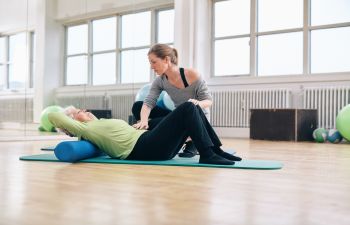 Right about this time of year you may be experiencing something called Cabin Fever. Cabin Fever is defined by Dictionary.com as "a state characterized by anxiety, restlessness, and boredom, arising from a prolonged stay in a remote or confined space."
The colder temperatures of the winter often hinder you to want to get out and remain active and healthy during the winter months. The effects of this inactiveness not only reach into your physical health, but your emotional health as well. Cabin Fever is not a diagnosable medical condition, but it may lead to other problems. The feelings of lethargy can deter you from healthy movements required to remain flexible, strong and fit.
If you're trying to fight against the effects of cabin fever, here are some tips for you.
Take the focus off of yourself. Find ways to serve others. You can do this from the comfort of your home by writing letters to others, or trying new recipes to serve your family. You can also step into someone else's home by serving at a retirement home or visiting people who are in the hospital.
Plan a weekend trip to a hotel with an indoor pool. Get exercise while having fun with your friends or family members.
Set up a puzzle station at your house for everyone to enjoy.
Care for the wildlife living around your home. Make special treats for the birds and any other creatures that are trying to stay warm this winter.
Go outdoors and cut some evergreens to bring into your home.
Set up a ping-pong table in your garage and challenge your family to a tournament.
Step outside and soak up some of the sun's rays. The vitamin D elevates your mood.
If you're feeling discouraged due to your injury or spine condition, it can be compounded by the effects of cabin fever as well. Ortho Sport & Spine Physicians is looking forward to helping you stay active and live your best life.
Posted on behalf of Ortho Sport & Spine Physicians