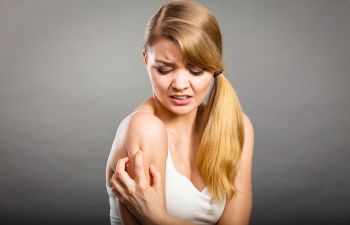 Frozen shoulder, a condition affecting the shoulder joint, also known as adhesive capsulitis, causes stiffness and pain. Frozen shoulder often resolves on its own, but it can take from a year to three years to run its cycle of discomfort and pain.
Causes of Frozen Shoulder Syndrome
The exact cause for developing frozen shoulder syndrome is unknown; however, some people are more susceptible than others. Individuals who have undergone a procedure that prevents arm movement are at a higher risk. For example, a woman who has had a mastectomy has limited arm motion. Stroke victims are also at risk for this condition. Frozen shoulder affects more women than men, and it usually strikes people between the ages of 40 and 60.
For unknown reasons, diabetics are vulnerable. About 10% to 20% of those with this medical condition experience frozen shoulder syndrome. Other medical conditions that put people are risk are Parkinson's disease, cardiovascular disease and thyroid disease.
Stages of Frozen Shoulder
In the first stage of this condition, the freezing stage, pain increases and mobility of the shoulder decreases. This stage may last from 6 weeks to 9 months.
The shoulder is frozen in the second stage. The pain may become less severe during this time, but the shoulder remains stiff and motion remains impaired. You may find it challenging to do daily activities. The frozen stage typically lasts from 4 to 6 months.
In the third stage the shoulder begins to thaw. Gradually you are able to increase your range of motion. The ability to resume your complete range of motion can take from 6 months to 2 years.
Diagnosis and Treatment
Your doctor will need to make a thorough examination of your shoulder to rule out other health conditions. This may include imaging tests like X-rays, MRI and ultrasound.
After diagnosis, your doctor will develop a treatment plan to help you manage the pain and reduce the inflammation. Non-surgical treatment is generally advised as the frozen shoulder runs its cycle.
Posted on behalf of Ortho Sport & Spine Physicians