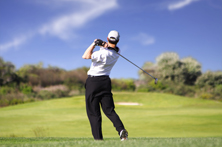 After a long winter, warm weather is here and many people are taking advantage of these spring days by breaking out their golf clubs. Golf is an enjoyable and relaxing sport for many people (it can also get quite competitive!), but for quite a few people they experience lower back pain and injury related to the game of golf. Muscle strains, muscle and tendon attachment, and disc injuries are the most common reasons for golf related back pain. At Ortho Sport & Spine Physicians, we are the medical practice that Atlanta golfers turn to for expert treatment for their golf injuries. Our practice features double board certified physicians that specialize in helping athletes recover from their injuries and athletic conditions and return to a healthy and active lifestyle.
The entire team at Ortho Sport & Spine Physicians utilizes the most advanced and minimally invasive treatments possible. Before we begin any type of treatment plan, we take the time to properly evaluate your symptoms so that we can accurately pinpoint the source of your pain. Our physicians take a different approach to medicine in that we limit the number of patients that we see in a day so that we can give each patient the time and attention s/he deserves without feeling "rushed" through the evaluation. During your initial consultation a thorough physical examination will be done and we will administer any diagnostic tests that are needed to help find the exact cause and point of your pain. Ortho Sport & Spine Physicians is committed to helping golfers of all levels return to playing with full recovery and prevention from reoccurring injuries.
If you are suffering from golf related back pain, contact Atlanta's Golf Injury Treatment Specialists at Ortho Sport & Spine Physicians. You will be scheduled to have a thorough consultation with one of our orthopedic physicians, and you will be served with the upmost state-of-the-art care. If you are a golf professional, we offer special accommodations that will enable you to receive the care you need in the privacy you desire. Contact Ortho Sport & Spine Physicians today so you can get back out on the golf course and enjoy your life.
Posted on behalf of Ortho Sport & Spine Physicians