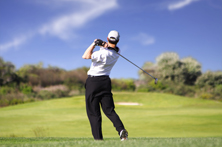 The U.S Open, the British Open, Champion's Tour.
It's safe to say golf season is in full swing. And whether you're an avid player yourself, or you simply enjoy hitting a few rounds on the weekend with friends, you're not immune to common golf injuries such as golfer's elbow, pinched nerves, herniated disks and rotator cuff pain.
Conditions such as golfer's elbow occur when you engage in a forceful gripping activity such as holding a golf club. It causes tendons in the forearm and elbow become inflamed, causing pain and swelling.
Back pain in the form of herniated disks and pinched nerves are also common in golfers, thanks to the repetitive and constant twisting required of a good golf swing. Poor form is a big contributor to this type of injury, but even the most experienced golfers often suffer from some type of back pain or injury.
If an injury has taken the oomph out of your golf game, schedule an appointment with Ortho Sport & Spine Physicians. Our double board-certified team of expert physicians specializes in helping athletes of all ability levels recover from pain and injury, and return to the sports they love. We use a wide range of interventional treatment methods catered specifically to you to help encourage quick, safe healing.
Give us a call today, and get ready to get back on the golf course.
Posted on behalf of Ortho Sport & Spine Physicians