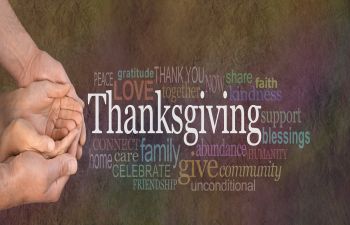 During the month of November, it's a good time to reflect upon all that we're grateful for. At Ortho Sport & Spine, we have a long list of all that we're thankful for.
Our patients-We know that our patients have options for their treatments.  We're thankful that so many of you have noticed and experienced the care, expertise, and professionalism that we provide, and you choose to keep coming back as faithful patients.
Our state- We are proud to serve, work and live in the great state of Georgia. Georgians are a warm and friendly people, and we love rubbing shoulder with "y'all" every day.
Our staff- We're honored to work alongside our staff each day. Each member provides professional care, empathy and specialized expert training to help each of our patient's individual needs.
Our locations– We're grateful to be able to serve a wider reach of patients through one of our 7 locations.
Our technology- We combine our expert care with the most advanced equipment and technology to provide you with the most minimally invasive techniques.
Our passion- We are privileged to be able to do what we're passionate about.
Our insurance-We're thankful that we have the opportunity to work with your insurance carrier to make the process of filing your claims as smooth and as easy as possible. We work with most insurance providers and accept several forms of payment.
Our patient testimonials- Our patients' reviews and testimonials are something we're grateful for. Hearing from our patients about how pleased they are with our services is something we work hard for.
Posted on behalf of Ortho Sport & Spine Physicians