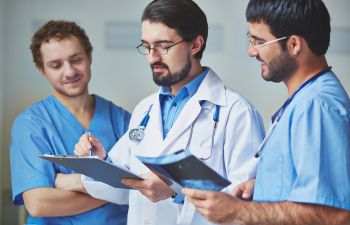 The heel is the largest of the 26 bones that make up your foot and ankle. Supporting all these bones are 33 joints and over 100 tendons, meaning there are many spots where something could go wrong from overuse or injury.
Plantar fasciitis is among such complications, and it is the most common cause of heel pain. It results from inflammation in the ligaments that support the arch of your foot and connect your heel bone to your toes.
Do You Have Plantar Fasciitis?
You could be suffering from plantar fasciitis if you feel a stabbing pain in your heel when you stand on it or take a step. However, the pain often lessens after walking for a few minutes, because the stiff plantar fascia stretches out a bit.
It is most common in athletes, especially runners, but also in those that are overweight, aged, have high arches or flat feet, work on their feet all day, have poor biomechanics and wear shoes that are old or do not fit.
When to Seek Medical Attention
The pain could be mild to immobilizing, changing the way you walk and putting you at risk of further injury from falling due to loss of balance.
For some, simple home remedies (like night splints, compression socks, heel pads and orthopedic shoes) can ease the heel pain; for others, the pain is chronic and cannot be alleviated.
If your heel is in constant pain, you may need to have the orthopedic specialists and interventional sports physicians from Ortho Sport & Spine Physicians diagnose the cause to find long-term relief. We are experts in treating plantar fasciitis and can help you recover so you can return to your active lifestyle.
Treatment Plans for Plantar Fasciitis
Plantar fasciitis goes away within months with the proper treatment, but with the help of our specialists, you rule out the possibility of other injuries and speed up recovery. We will tailor a treatment plan suitable to your situation after confirming a diagnosis of plantar fasciitis.
The treatment plan may include any combination of the following: stretching exercises, physical therapy, massage, anti-inflammatory medications, rest, steroid and anesthetic injections and surgery, only if you have no success with any of the other treatments.
Book an Appointment to End Your Heel Pain
Why live with the discomfort of plantar fasciitis? Let our Plantar Fasciitis Treatment Specialists ease your suffering and give you long-term relief from heel pain so you can live your best life. Take that first step down your road to recovery by contacting us today to schedule a consultation.
Posted on behalf of Ortho Sport & Spine Physicians