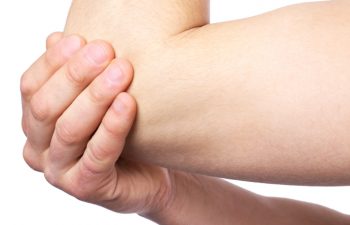 The elbow is a hard working joint. Without it we couldn't lift, throw, swing or hug. We often forget about it until it begins to give us problems. There are many different types of injuries the elbow can sustain. Proper diagnosis of the exact injury can make a huge difference in the care and treatment of this important joint. The physicians at Ortho Sport & Spine are specialists in elbow issues and will be able to give you answers when it comes to proper diagnosis and treatment.
Elbow Injuries
The first step in treating a painful elbow is to evaluate the joint to discover the condition causing the pain. Sometimes it is evident. If the elbow is dislocated, fractured or sprained, a diagnosis is relatively simple. More complex issues arise if you have a wear and tear injury such as bursitis, tennis elbow or trapped nerves. Arthritis can be another cause for a painful elbow joint. Some autoimmune disorders such as lupus or Lyme disease can cause the elbow to become inflamed and swollen.
Treatment Options for Elbow Injuries
Once an evaluation has been conducted, treatment can be prescribed. If the elbow is dislocated, it may be possible to treat using non-surgical means. The joint can be carefully returned to its proper position by a physician. This will be followed by physical therapy to restore full movement. Sometimes, if the damage is more severe, surgery will be necessary. If the injury is due to a wear and tear condition such as bursitis or tennis elbow, other treatments will be necessary. Bursitis can often be treated with medications to relieve swelling. Tennis elbow may require surgery to fully repair. This is why it is so important to seek treatment from physicians specially trained in diagnosis and repair of the elbow joint. The physicians at Ortho Sport & Spine bring that expertise to every patient, offering reassurance that you will receive the best treatment available.
If you are experiencing elbow pain, make an appointment for a consultation and treatment plan. Allow the staff at Ortho Sport & Spine Physicians to properly diagnose and treat your elbow injury with the care you deserve. Call Ortho Sport & Spine Physicians to schedule a consultation today. Let us help you get back to full use of your elbow and give you peace of mind.
Posted on behalf of Ortho Sport & Spine Physicians