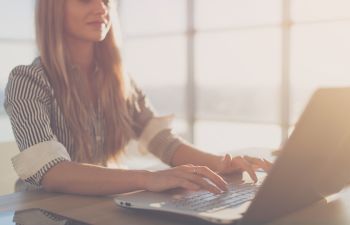 If you work from home for any period of time, comfort and health will result from good ergonomics. Creating a workspace that is safe and conducive to comfort may prove difficult for some. If there is limited space available, you may find yourself working from the sofa, a bedroom or dining table.
Poor ergonomics can affect productivity, but there are also health implications to consider. Pain, discomfort and the potential for developing conditions such as carpal tunnel syndrome are likely outcomes. It is therefore important to ensure that you improve ergonomics as much as possible.
Workspace Adjustments
Sitting in an uncomfortable position, where the back isn't straight, can lead to a long list of health issues. If you are struggling to reach your laptop keyboard without hunching over, it is time to make changes. In most cases, using an external monitor is the best option. However, if you have a table that allows you to rest your forearms level with the keyboard, it will help you keep a straight back while seated.
The chair your sit in is perhaps the most important piece of furniture for good ergonomics. If you do not own an office chair, consider purchasing one. Kitchen type chairs are not designed for long periods of sitting. You may develop pain your legs, hips, back or neck as a result of using a chair that is not ergonomically designed.
Ideally, you should always sit so that your eyes are level with the top of any work screen. If this is only achievable with your feet elevated off the ground, the work surface is too high. The feet should be able to rest flat on the ground when sitting for up to eight hours a day in the same position.
The COVID pandemic could result in many people working from home for the foreseeable future. If you are experiencing joint issues as the result of poor ergonomics, consult with Ortho Sport & Spine Physicians today.
Posted on behalf of Ortho Sport & Spine Physicians