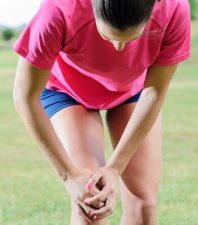 Losing mobility in your knees and experiencing knee pain can be a serious hinderance to your daily routine. If you have intermittent pain and loss of mobility every now and then, you may be inclined to use over-the-counter pain relievers and wait it out until your knee gets better. Though that may work, even time and again, it is better to have your knee examined to find out the cause and have treatment.
Loose Bodies
A common cause of intermittent knee pain is a condition in which fragments of bone or cartilage float in the synovial fluid in the knee. These fragments are called loose bodies and they can accumulate and lead to bigger problems with your knee joint.
There are various conditions with can lead to the creation of loose bodies. An injury to the knee can result in the formation of loose bodies if fragments break off from the cartilage. Such injuries can occur through traumatic events like a car accident or they could be the result of a sports injury.
Another cause is arthritis. Sometimes arthritis or Charcot's disease will develop after an accident or injury. This can produce debris that will float in the fluid of the knee. Inflammatory conditions will sometimes produce fibrinous loose bodies.
Synovial chondromatosis also produces these fragments, although it is not a common condition. It is also known as synovial osteochondromas. When the synovium grows abnormally, it produces nodules of cartilage that can lead to knee pain.
Diagnosis and Treatment
It is easy to ignore the discomfort caused by loose bodies since the pain can be intermittent and not constant. Your knee may feel locked up on occasion or you may feel the joint is blocked. As the loose body floats to another position, your knee will feel normal again.
Ignoring the condition can lead to damage of your articular cartilage. The pieces floating around can be anywhere from a few millimeters to a few centimeters in size. The damage caused by loose bodies can lead to other conditions such as osteoarthritis. You can stop the progression of damage by seeking medical attention.
At Ortho Sport & Spine Physicians, we provide a variety of treatment for knee pain. Accurate diagnosis and a specific treatment plan for you will help you feel better quickly. Call us to schedule an appointment with one of our physicians and get relief for your knee pain.
Posted on behalf of Ortho Sport & Spine Physicians