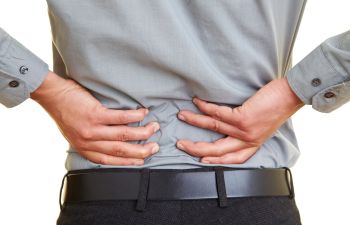 Back pain is one of the most prevalent maladies in the USA. In fact, nearly 80% of Americans will experience back pain at some point in their life. Disabling pain usually attacks the lower back, where the majority of discomfort is located. Those with chronic pain want and need relief, but is back surgery really necessary?
Diagnosing the Cause of Back Pain
The first step in treating back pain is identifying the cause of it. There are several reasons why a person may experience discomfort in the back. For some, the pain will resolve on its own over a period of time. For others, treatment may be necessary to alleviate pain, and of those, some will need to resort to surgery.
About a third of adult females experience lower back pain compared to about a quarter of the adult male population. Half of all pregnant women experience back pain. People who have jobs that require they stay seated for hours make up more than half of the low back pain sufferers. Many people can't pinpoint the exact cause of their discomfort. The good news is that the majority of people suffering with back pain will recover within a month or two. Nearly 10% will develop a chronic case of back pain.
Conservative Care
Many doctors and physical therapists suggest patients with back pain try conservative care to begin with. After all, the majority cases resolve on their own in a few weeks. Conservative care consists of applying ice to the painful area in the early stages. The cold can reduce inflammation and numb the pain of affected tissues. If the pain continues after a few days, heat can be used to get the blood flowing to the area and it may relax the muscles a bit.
Over-the-counter pain relievers are often suggested. Acetaminophen helps to relive discomfort without being harsh on the stomach, but it does not reduce inflammation. Anti-inflammatory medication such as ibuprofen can help relieve inflammation.
While bed rest and sitting may help in the early stages of back problems, it is important to stay physically active. Gentle stretches and strengthening exercises may help once acute pain subsides. Your doctor or physical therapist can recommend exercises.
When Surgery Is Required
Some chronic back pain may benefit from surgery. Thanks to advancements in technology and medicine, there are minimally invasive surgeries that may be able to help chronic back pain sufferers. Highly qualified spine physicians trained in endoscopic spine surgery can produce effective results for many living with chronic back pain. When conservative treatment fails and back pain is keeping you from normal activities, it may be time to speak with your doctor about surgical alternatives.
Posted on behalf of Ortho Sport & Spine Physicians