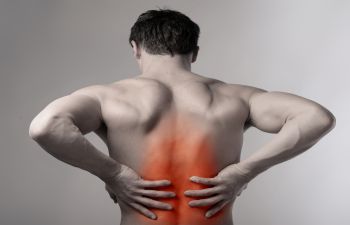 The numbers of Americans dealing with back pain on any given day is in the millions. In fact, it is estimated that at least 80% of the population will experience back pain at some point in their lifetime. That is a lot of pain going on. For those who live or work in places with concrete flooring, your chances of back pain may be increased.
Natural Shock Absorbers Have Limits
Your body has built-in shock absorbers to cushion the body against most things. You can imagine a car that has smooth roads all the time compared to one that has to deal with bumps and potholes on a regular basis. The shock absorbers are going to last a lot longer on the car with the smooth roads.
Constant walking on concrete flooring is like taking the bumpy road. Your shock absorbers can only do so much and over time, they are going to wear out. The good news is, there are things you can do to minimize the effect of concrete flooring.
Back Pain and Concrete
Unlike other surfaces, concrete has no give. This inflexibility affects the body. Standing or walking on concrete flooring every day can result in backaches, knee pain, swollen legs and sore feet. Left untreated, you may experience injuries and chronic pain.
Poor posture is a major cause of back pain. The rigidity of the floor causes increased pressure on your spine when you are walking or standing. This can cause the muscles in your lower back to become tighter and spasm.
Tips to Help
Unless you are going to find a new place to live or a new job, when you are faced with concrete floors as a fact of life, there are adaptations you will need to make in order to reduce the effects of it.
Make sure your posture is correct – keep your spine in alignment when standing or walking on concrete.
Invest in good shoes – for people who love to go barefoot at home, if your floor is concrete, this is a luxury you may need to relegate to those walks in the park. Find shoes that provide cushioning and support for your feet. Let your shoes take the impact of walking on the hard surface.
Put down cushioned mats or carpet – This may be more challenging in the work place, but it is worth asking about. If you have concrete flooring at home, then make the time to get cushioned floor mats and/or carpeting or rugs that will give your feet a break.
Exercise your back muscles – Daily exercise is always a good thing, and when you have concrete flooring or your work on concrete floors all day, exercising those muscles is a necessity. Keeping your back muscles strong will aid in reducing lower back strain.
Invest in a good mattress – You walk on concrete all day so when it comes time to sleep, be sure your body has the support and comfort needed to provide a good night's rest. The right mattress will support your back and relieve the strain.
Concrete floors can be hard to live with, but with the right adaptations, your body will be fine. If you do experience pain and discomfort, call the doctors at Ortho Sport & Spine Physicians. Schedule an appointment for consultation and exam and we will help you feel better fast.
Posted on behalf of Ortho Sport & Spine Physicians