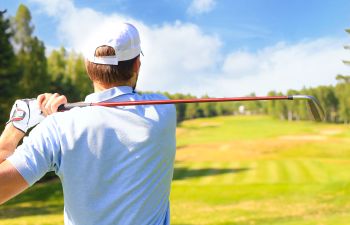 Golf is often mistakenly identified as a sport with very little chance of injury. While there are traumatic injury hazards, such as being hit with a ball or struck by a swinging club, there are more common problems associated with golf. Injuries from repetitive motions and poor form can be found in the shoulders, wrists, elbows, spine, lower back, hips and knees. Many times, these injuries are attributed to other causes – such as poor sleeping posture, or simply aging – but one wrong move on the course can change aches and pains into an acute injury. Below are a few things to be aware of when you are setting up for your next round of golf.
Golfer's Elbow (Medial Epicondylitis)
Golfer's elbow is one of the most frequently seen injuries. Do not let the frequency fool you; left untreated it can be a serious and debilitating injury. Caused by overuse or poor form, it may be surprising to discover it is usually found on your non-leading elbow, which absorbs more of the force on your downswing.
You will have radiating pain down your forearm and into your wrist, but the injury site is on the inside of your elbow. Stressed muscles become weakened, and the tendons pick up the load, often tearing in the process. You may have significant swelling at the site as well.
Exacerbated Back Pain
Sometimes golfer's back pain results from stressing an already injured area, especially if you suffer from herniated discs. However, the muscle strain associated with the forceful rotation of a swing, especially when accompanied by poor form, can cause significant pain. Considered an acute injury, you should stop your game right away until you are evaluated by a professional. You will want to ensure you do not have a more serious back or hip injury before continuing the sport.
Chronic or Acute Shoulder Injuries
The repetitive motion of the swing can cause everything from general muscle strain to inflamed tendons (tendonitis) to frozen shoulder (adhesive capsulitis). Not listening to your body can have catastrophic results, and one of the most frequent is a rotator cuff tear. These tears often require extensive treatment, surgery and significant healing time.
Shoulder injuries should always be treated as serious. Stop what you are doing and have the joint evaluated as soon as possible.
Treat Your Golf Pain and Injury Properly
The goal of any treatment plan is to return you to the course as soon as it is safe to do so. Ortho Sport & Spine Physicians treats all levels of golfer, from amateur to professional. With our thorough understanding of sports injuries, we can address the immediate need for pain relief and a long-term strategy to ensure your successful recovery and return to the course. Contact our office today to schedule your consultation.
Posted on behalf of Ortho Sport & Spine Physicians