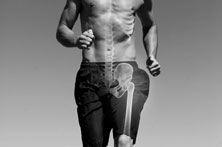 Every year, tens of thousands of people undergo hip replacement surgery. One of the major reasons is the wearing down of the hip joint. This is most often due to the effects of osteoarthritis; however, other health conditions such as rheumatoid arthritis, bone tumors and avascular necrosis – a condition that causes loss of bone due to insufficient blood supply – can also lead to problems with the hip joint. Keeping your hips in healthy condition can help you avoid this surgery.
The Case for Healthy Hips
Over the past several years, the number of hip replacement surgeries has doubled. This is according to a report by the National Center for Health Statistics. The procedure may be routine, as the numbers indicate; however, there are certain risks involved with the surgery. Among them are blood clots, loss of blood, infection at the replacement site, loosening of the hip implant, hip dislocation and a difference in leg length.
Keeping your hips in a healthy state is preferable and certainly cost-effective when compared to the expense and risks involved with replacement. There will be individuals who have no choice in the matter; hip replacement for some will be the only way they will have pain relief and mobility. For the majority of people, doing those things that will aid in keeping your hips healthy is the better choice.
Maintain a Healthy Weight
Arthritic joints are irritated more by excess weight. The extra pounds can cause arthritis to progress faster and can increase pain levels. Cartilage begins to break down when it carries a load heavier than it can withstand. Even a small decrease in weight can make a big difference.
For example, an 11-pound weight loss over 10 years has been shown to be beneficial for women, resulting in a 50% decrease in pain. Limiting or eliminating white flour, sugar, white rice and potatoes, or high glycemic index foods from the diet can minimize inflammation and pain in the joints.
Appropriate Exercise
Your core is the most important part of your body and getting proper exercise here can make a big difference. When you strengthen your core, you are strengthening the muscles around your hips and back. This helps keep your back supported and your hips in better alignment. Vary your exercise routine to use different muscle groups and gain overall strength and flexibility.
If you exercise regularly, avoid the things that increase hip pain and eat to eliminate inflammation, and you are still experiencing discomfort, you should speak with a specialist. Early diagnosis of hip problems may negate the need for surgery. Physical therapy and certain modifications may be all that's required to treat the problem, or you may need minimally invasive surgery to correct an impingement. Seek out a well-qualified specialist.
Posted on behalf of Ortho Sport & Spine Physicians