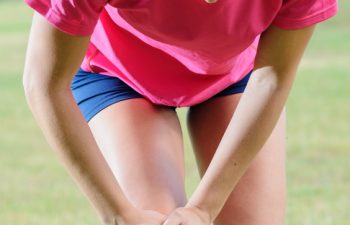 Whether you play sports professionally or recreationally, knee injuries are common among the physically active. Twisting the knee, jamming the leg, and hard falls are often common injuries, but the outcomes can have long term effects. Chronic knee pain is associated with many people who put repeated, continuous stress on their knee joints. This chronic pain is also common among those whose jobs require heavy lifting and climbing. Ortho Sport & Spine is an orthopedic and interventional medical practice featuring a team of double board certified physicians and orthopedic specialists. We are committed to treating your chronic knee pain in the most minimally invasive method so that you are able to return to your physical activities with pain relief.
Those who suffer from chronic knee pain are often good candidates for knee injections. This method of relief is an advanced interventional procedure that can treat the pain and inflammation of the knee joint. While this procedure may sound a little intimidating, the procedure typically does not hurt. An anesthetic is given first to numb the knee. If there is a build up of fluid, that can be removed using a needle to draw out the extra fluid so that the treatment will be successful. Then, the pain relieving injection will be given (typically below the kneecap), and the medication will disperse and work throughout the entire knee joint.
If you are looking for relief from your chronic knee pain, look no further than Ortho Sport & Spine. Our physicians are dedicated to providing long term pain relief for your aching knee joints. Knee injections are an important tool for the treatment of chronic joint pain, and Ortho Sport & Spine is your respected source for treatment.
Posted on behalf of Ortho Sport & Spine Physicians