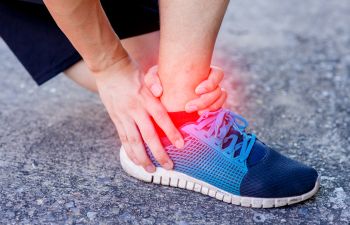 Ankle injuries are common in our busy, active world. From sports injuries to tripping and falling, nearly all of us have twisted an ankle at some time. However, when a bit of ice and elevation doesn't take care of the problem in a few days, things could be more serious and need medical intervention.
Causes and Risk Factors of Ankle Injuries
Ankle injuries happen when the ankle is rolled, twisted, bent or broken. These injuries can happen to tendons, ligaments and bones. Many times, ankle injuries happen while playing sports. For example, children can get ankle injuries from play and roughhousing. Jumping and landing wrong is another common cause of ankle injuries. A sports teammate or opponent could step on the ankle with force. Still others wind up with arthritis that can cause ankle problems. And, of course, falls and accidents can also damage the ankle.
There can be many risk factors for ankle injuries, including:
Sports Participation
Walking or Running on an Unstable Surface
Prior Ankle Injury
Poor Condition of Self or Equipment
Disease
Age
Smoking
Types of Ankle Injuries
Ankles are made up of bones, ligaments attached to the bones to hold them in place and tendons, which connect the muscles used for ankle movement. Ankle injuries are categorized according to the tissue, whether bone, ligament or tendon. A sprain involves the ligaments, including tears and ruptures of the ligament fibers. A strain involves the tendon, or the muscle, being stretched too far, and a break refers to a broken bone or bones.
Orthopedic Solutions for Ankle Injuries
When dealing with the pain and immobility that comes from an ankle injury, you need an orthopedic doctor specializing in these injuries. The physicians at Ortho Sport & Spine Physicians work with sports injuries, joint injuries and spinal injuries. Because of the sports injury work, they are quite experienced and knowledgeable about ankle injuries.
You can expect our physicians to offer the most conservative non-surgical interventions first with every possible injury. Then, of course, we also provide surgical interventions, but many times surgery isn't needed. Whether surgical or non-surgical procedures are needed to repair your ankle injury, when you come to Ortho Sport & Spine Physicians, you can expect to be listened to and supported with dignity and respect by our caring staff and doctors. Contact us today, and let's get your ankle injury repaired.
Posted on behalf of Ortho Sport & Spine Physicians